Lesson Plan
Oxymorons
Learn about the Oxymoron using a variet of digital tools for integration.
All Notes
Teacher Notes
Student Notes
1

Hook

Step #1.  Create a google form with the following questions related to an Oxymoron.  Capture the URL and turn it into QR Code so that students can use a digital device to access and complete the form.  Recommendations for inclusion into the form are:

Write ONE synonym for the word BENEVOLENT.

Write ONE synonym for the word DICTATOR.

Consider the word BENEVOLENT.  Does it have a POSITIVE or a NEGATIVE connotation??

Consider the word DICTATOR.  Does it have a POSITIVE or a NEGATIVE connotation?

The words BENEVOLENT and DICTATOR contradict each other.  How?

This 'form' will serve as a pre-assessment prior to instruction.

Show the data collected from the form to the class.  Ask them to identify the contradiction that the pie charts represent. 

https://docs.google.com/forms/d/191KhoEcIPk0nX8fb43glK_P7WwKEg07GSDAwmNNYlzU/viewform

https://docs.google.com/forms/d/1pHxGqYaZE4wq4R50_4TZHTocHLKiczTy2nlxSSKmIa4/viewform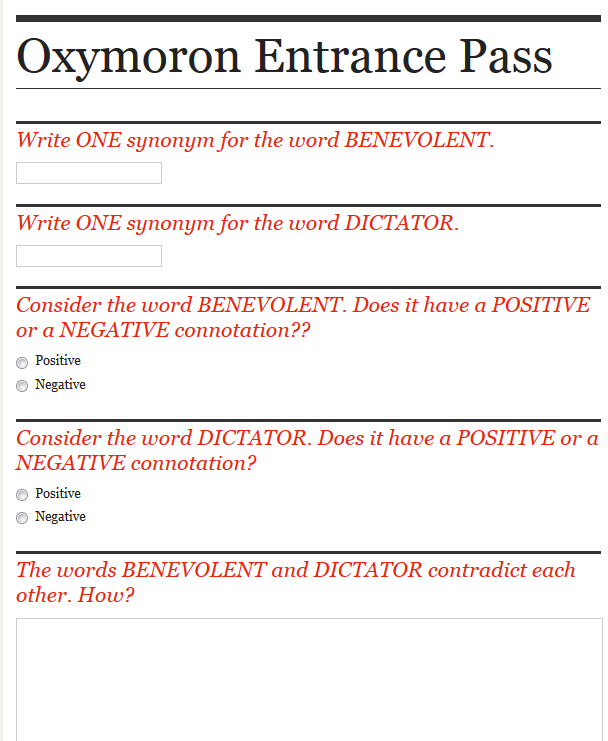 2

Direct Instruction

Below are directions regarding information that can be input into the Prezi.  This will allow you to clearly explain, define and allow students to view, discuss and practice the concept of the Oxymoron.

Provide students with an image of a YIN YANG on Prezi. 
Ask students how it represents a contradiction.
3

Guided Practice

Continue to use the Prezi.  Provide a guided practice opportunity for students.  The level of scaffolding is determined based on the content the teacher places within the Prezi presentation.  Teacher can check for understanding as students respond and share.

In this case, students evaluate a passage from Romeo and Juliet and look for examples of Oxymoron:

Next, provide students with the following passage from Shakespeare's Romeo and Juliet within your Prezi:

Here's much to do with hate, but more with love.

Why, then, O brawling love! O loving hate!

O anything of nothing first create!

O heavy lightness! Serious vanity!

Mis-shapen chaos of well-seeming forms!

Feather of lead, bright smoke, cold fire,

Sick health!

Still-waking sleep, that is not what it is!

This love feel  I, that feels no love in this.

 

 

 
4

Independent Practice
MindMeister
Free, Paid
In this individualized practice opportunity, students will create a web of oxymoron word pairs using Mindmeister.  First, review Oxymoron word pairs at this website:  http://www.fun-with-words.com/oxym_example.html.  Select 5 word pairs.  Create a web that connects each pair together AND explains HOW the words represent oxymoronic statements. Mastery is demonstrated when the pairs are demonstrated and an accurate explanation is provided.
Mindmeister requires log-in for use.  
Here is a work around for students that do not have Email addresses:
-Create a gmail account, like "[email protected]".
 -Create mindmeister accounts by using your master g-mail account and adding +1  to it.  For example:  "[email protected] This gives them separate accounts, but all the email would go to "[email protected]". In most email services you can create these "+" aliases which appear as a separate address, but in reality they all point to the same address.
5

Wrap-Up

Provide students with a QR Code linking to a Google Form to post assess student understanding of the concept of the Oxymoron. Students provide their name, demonstrate an understanding of the concept and self-assess their understanding of the concept.